Port Vauban has 4 electric vehicle charging stations located near the Capitainerie, however these are no longer free of charge to use by the public.
Recharging at these stations is reserved for boat owners and vehicles of the Capitainerie/harbour master.  The port now has bollard rings there; photos below from Chargemap.
The tariff for recharging is €0.56 TTC, KW/H.
Electric Vehicle Charging Stations at Port Vauban
Here's the overview of charge types for the terminals at the Antibes Capitainerie:
Terminal 1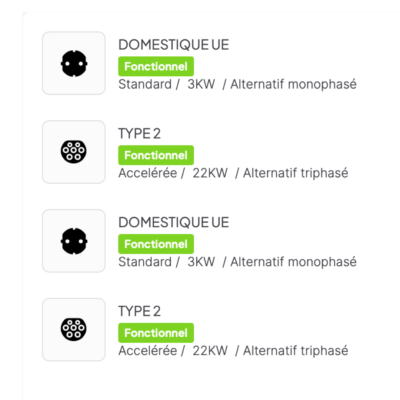 Terminals 2 and 3

Terminal 4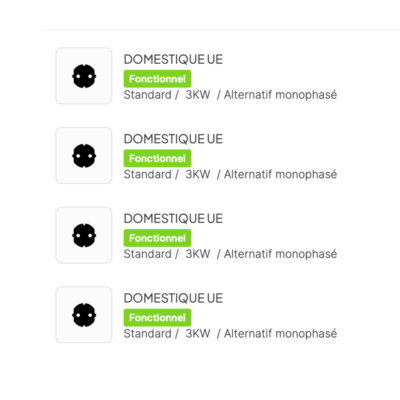 Other electric vehicle charging terminals near Port Vauban
Because the charging stations at Port Vauban have restricted access, here's the location of other electric vehicle charging points near the port:
Across the road from the port in the underground parking, Q-Park Pré aux Pêcheurs, there are a number of electric charging terminals located on the left wall when you enter the carpark.  Note:  I have received reports of non-electric vehicles parking in these spots.
Across the road from the port, there's a Wiiiz charging station with 2 parking spots outside the Only Yacht and Port Vauban sales office.  (10 avenue de Verdun).
Effia charging stations are located at the carpark at Antibes Train Station (Gare d'Antibes).
Parking at Port Vauban
Port Vauban has over 1000 car parks which is a mix of public parking and zones reserved for yacht owners.  Public parking is pay parking; there are several pay machines throughout the marina.  There are 19 disabled access (PMR) parking spaces at Port Vauban; I will update this post if I can locate a more specific map of their exact locations but I was advised they are near the port buildings.
Parking reserved for yacht owners is on the IYCA, Mole Sud, quais 12 to 15 and Porte Marine.
Here is the PDF download (in French language) with more information about amenities and services at Port Vauban, as well as the parking rates at the port (parking tariffs from page 35 onwards): https://leportvauban.com/wp-content/uploads/2021/12/VAUBAN_TARIFS_et_CONDITIONS_2022.pdf
Please note:  This information is current as at 5 January 2022.  There are many electric charging websites and apps that are not up-to-date with this information.