Online Yachting Directory for Antibes
Helping you easily find local products, services & suppliers
Antibes Yachting goes beyond conventional business to connect you with opportunities and industry-specific advice.
Rebecca's skills in public relations have made her a well-known entity in yachting and luxury market places. I would not hesitate to put the future of my business in her hands, as I know that she would push it to be as successful as she possibly could. I highly recommend Rebecca and Antibes Yachting.
Rhea Rouw, Company Owner, Yachting International Radio
Rebecca is a natural talent when it comes to writing, she helped me with my website and everything she wrote was spot on. One appointment to discuss quickly the general idea of what I wanted and a few days later, the website was ready with Rebecca's texts. I couldn't have asked for a better/faster/more efficient service. I was totally satisfied and I can only recommend Antibes Yachting !
Rebecca's knowledge of the French Riviera is second to none. Her posts offer a truly exciting style and insights of huge benefit to anyone visiting the south of France. I would not hesitate to recommend Rebecca to anyone looking for a true "guru" on the ground on the Cote d'Azur or to add great content to their blog/website. She researches any subject thoroughly and always surprises me with her fantastic writing.
Alexander Coles, Charter Broker, Bespoke Yacht Charter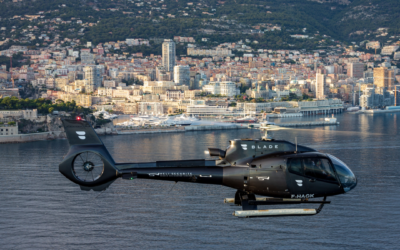 I am happy to announce that Antibes Yachting is an official commercial partner with BLADE.
Four years ago, Monagasque operator Monacair bought Héli Sécurité in Saint-Tropez.  A deal between Monacair and BLADE was then completed in May 2022.  Then, in June 2022, Monacair bought Azur Hélicoptères in Cannes.  In total, the group now has a fleet of around 30 helicopters. Under the agreements, BLADE agreed to buy the routes and heliports, however, the three operators will retain their fleets with Blade being their sole customer, extending an asset-light strategy in which the US group has sought to put its brand on the most popular routes served by helicopters before the expected arrival of a new generation of electric vertical aircraft, known as eVTOLs or EVAs.
About BLADE
BLADE is a technology-powered, global urban air mobility platform committed to reducing travel friction by enabling cost-effective air transportation alternatives to some of the most congested ground routes in the U.S., Canada or in Europe. No company flies more people in and out of city centres than BLADE.
In Europe, you can book by-the-seat on 7-minute scheduled flights between Nice and Monaco and you can charter from the BLADE Lounges from Monaco, Nice Airport, Cannes, or Saint-Tropez all year long, as well as helicopter tours.
During winter season, BLADE provides charter flights from Geneva, Zurich, or Archamps Airport to the most prestigious ski resorts in the French and Swiss Alps such as Courchevel, Méribel, Megève, and Chamonix.
Today, the Company predominantly uses helicopters for its passenger routes and is also one of the largest air medical transporters of human organs for transplant in the world. Its asset-light model, coupled with its exclusive passenger terminal infrastructure, is designed to facilitate a seamless transition to Electric Vertical Aircraft ("EVA" or "eVTOL"), enabling lower-cost air mobility to the public that is both quiet and emission-free.
To book your BLADE transfers and helicopter tours
The most requested line is Nice Airport to Monaco.  During summer, there is also Saint-Tropez, Cannes, and Italy.  Helicopter transfers for major events such as the Cannes Film Festival, Monaco Grand Prix, Cannes Yachting Festival, and Monaco Yacht Show are extremely popular.  During the winter, mountain destinations are attractive including Courchevel, Geneva, Gstaad, and Switzerland in general.
To book your BLADE transfer or helicopter tour for the French Riviera, Monaco, or ski destinations, contact me by email: [email protected]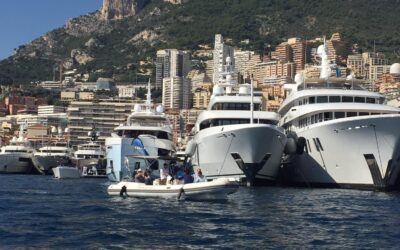 September flew by in a storm of yacht shows, bringing together many industry leaders and flagship products and services – the links in the nautical anchor chain – that fuel businesses across the superyacht sector.
I managed to meet face-to-face with people at Cannes and Monaco, and heard feedback from Southampton and Genoa shows.
Is anyone else equally motivated and exhausted, and planning on buying new shoes this month?
✅ 5 key takeaways from September yacht shows:
STICK TO YOUR VALUES:  My day job as a marketing consultant and copywriter means I have to be chameleon-like and skilled at adopting different tones/brand voices for clients at yacht shows (it's not impossible, but you need the right fit).  Just because a company has multiple global offices does not equate to treating its staff, media guests, and freelancers well. Don't promise anything if you can't deliver it. If you stuff up, be accountable and fix it immediately.
SMALL BUSINESSES & FREELANCERS ARE VALID ECONOMY GENERATORS: It was invigorating speaking with many people who shared their challenges and transformations running a small business or being self-employed. This year, I had clients who were managing 100+ guests for a cocktail party, presenting roundtables about yachting innovation, and diving into shining a light on common issues in the yachting industry.  Small businesses are alive and kicking. Freelancers are little gems of inspiration and a reality check for the rollercoaster of getting, maintaining, and keeping clients.
SUGGESTIONS: Three suggestions I'd like to see:
A dedicated spa, wellness, and health exhibition zone: Targeted at manufacturers and suppliers for high-end spa and wellness. You could pull in gym suppliers, spa designers, luxury toiletries, and so on. Also, a good opportunity for awareness of crew-specific companies and initiatives focused on mental health, fitness, and well-being onboard.
More cohesion with destination providers: I feel the layout for tourism and destination providers is disjointed – one exhibitor was located beside a paint supplier and marine stabiliser company. It makes sense to theme luxury travel providers, tourism boards, and private aviation in one zone.
Marine education and conservation for the next-gen: I feel this is a missed opportunity and think we need to kickstart this. There is no family-friendly element at all to share knowledge and inspire the next generations – educational marine conservation workshops for kids, boating terminology for budding sailors, and highlighting philanthropic causes in place globally. This could be a wonderful opportunity to grow awareness with young people, especially with Monaco being part of the Pelagos Sanctuary for Mediterranean Marine Mammals, and the Oceanographic Museum of Monaco being on the doorstep of one of the world's busiest yacht shows. What are we doing to ensure future generations are engaged socially and environmentally aware of our planet and oceans?
BALANCING NETWORKING WITH SOCIALISING: The schedule at boat shows can be exhausting from early morning conferences to late night parties. I'll be honest and admit I'm partial to a glass or two of rosé, however, this year, I noticed events were heavily angled toward alcohol consumption, and for industry acquaintances who are teetotallers, recovering alcoholics, or with health considerations there was a distinct lack of non-boozy events. As well, some events had eyebrow-raising entertainment and we must stay mindful that our guest lists can include international clientele who may be culturally sensitive to nudity.
GRATITUDE FOR FEEDBACK: Most of all, I appreciate the genuine feedback that people shared with me about my LinkedIn posts. I've always been willing to push the edge of topics and it's great to hear that the unbridled content I post gets people talking and sharing.

During September, people asked me to publish more marketing videos for social media. I haven't really bothered to create videos featuring myself as I focus so much on clients, but you have to give the people what they want!

I especially didn't want these videos to be overdone and too polished as that is not my style at all. I want to eliminate marketing jargon and give quick tips in less than 2 minutes as that's more relatable for the clients I work with. One take and it's done.

The biggest challenge has been the video caption apps not understanding my Kiwi accent 😂

💡 If you missed my mini-series of videos that share marketing and communication tips that will make your life easier regarding public relations, boat show marketing, and other social media advice you can find them on Instagram: https://www.instagram.com/antibesyachting
Read the Monaco Yacht Show 2023 review here on Luxury News Online: https://luxurynewsonline.com/monaco-yacht-show-2023-an-insiders-guide/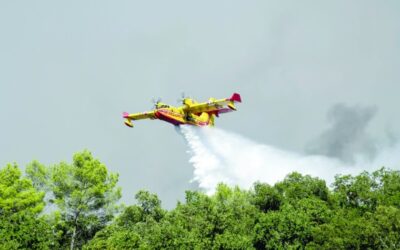 With summer well and truly here and ongoing high temperatures on the French Riviera, I thought it's timely for a reminder post about the Canadair scooping zones including maps.
The third most wooded department in the south – the Provence Alpes Côte d'Azur region, has more than 257,000 hectares of forest which represents 60% of the total area of the department.
90% of forest fires in southern France are started by humans.  It's a shocking number, which puts lives and property at risk every summer.
Every year, pompiers, the pilots of the helicopters, Canadairs and Dash planes, and the Sécurité Civile are out there on the line to protect or preserve people, property, and wildlife.
The Canadair planes are important to fight forest fires here in southern France and it's a timely reminder for yachts to be vigilant and stay clear of the water-scooping zones.   It seems logical to heed the information of the ports and Préfecture Maritime, however every year there are people who risk their safety and endanger others by getting in the way.
You might spot the planes in this region everywhere from Marseille to Villefranche-sur-Mer.  The pilots fly overhead so people on the water can see them.  In the event of scooping, the planes make one or more passes at very low altitudes above the presentation axis before touching the sea. They have a carrying capacity of 6000 litres, taking up to 12 seconds to fill the water tanks.  They can make up to 48 airdrops in 3 hours.  During the scooping phases, the Canadairs are effectively not very manoeuverable and they have priority over other aircraft that can use the water (civilian seaplanes, microlights).
"Protecting land and people is more than just a professional value," a Canadair Commander said. "It's what Canadair pilots do. It's in our DNA."
You may have seen some prior videos online that the Sécurité Civile posted showing boats a few metres from the Canadairs who came to collect water in the bay of Saint-Tropez to extinguish a fire that destroyed nearly 5,000 hectares in the Var in the past.  Take a look at this video by Le Parisien on YouTube:  https://youtu.be/n05ZwvIXg9M
The Gendarmerie Maritime and Civil Security asks boaters, jet skiers etc not to get in the way of the Canadair scooping areas.  In practice, from the overflight, any person or watercraft (swimmer, diver, yacht, etc.) must move away as quickly as possible more than 500 metres from the presentation axis.  Furthermore, you must stay out of the scooping zone throughout the duration of the operations and until one hour after the passage of the last plane, otherwise, you will be fined. Any offender will have to pay a fine of 135 euros.
Canadair approaches ARE NOT the time or place to get selfies!  This is an attitude that endangers the occupants of watercraft, as well as the Canadair pilots who must already perform a difficult operation to bail out.
IMPORTANT LINKS:
Thanks to the Préfecture Maritime for providing me the link to the current info with the maps for Canadair scooping zones.  You can find that here (in French language): https://www.premar-mediterranee.gouv.fr/uploads/mediterranee/arretes/4e33402666a06f854853da46481bbe5e.pdf
Note: The scooping zones from the Préfet Maritime de la Méditerranée are very difficult to find online!  The official arrêté is 1er avril 2021, N°059/2021; arrêté préfectoral n° 160/2018 du 04 juillet 2018 (règlementant les plans d'eau de Méditerranée utilisés par les aéronefs amphibies chargés de la lutte contre les incendies de forêt).
The name of the arrête N°059/2021 is not how the search function operates on the Préfecture Maritime website, which is why it's confusing for yacht crew. On the website you must enter 2021 then 059 for the search (2021-059). Hopefully, the search functionality and keyword search on the website improves in the future.
2. The French Navy signal stations will broadcast Sécurité messages on VHF16 when the Canadair scooping zones are activated.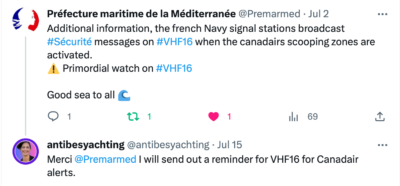 3. Find the daily Fire Risk Alert map for the Var here.  It's published daily at 19h for the next day: https://www.risque-prevention-incendie.fr/var/
You can also find the daily fire risk updates for the Var on Twitter: www.twitter.com/Prefet83 and Facebook: www.facebook.com/Prefet83
Météo-France and the National Forestry Office (ONF) will provide more precise forecasts: "We will have a twice-daily strategic analysis of all the departments of the southern zone and the south-western zone, so we will be able to make a comparison of the dangers and the risks.  As soon as a risk is determined, 2 Canadairs will be positioned immediately."
4.  Forest fire risk updates are posted daily by Sécurité Civile on their Twitter account:  www.twitter.com/SecCivileFrance
5. The National Park of Port Cros (Porquerolles) has its own alerts which you can see here: https://www.portcros-parcnational.fr/fr/le-parc-national-de-port-cros/la-reglementation/reglementation-terre/fermeture-des-massifs and also updates on Twitter: https://twitter.com/PNPC83
6. You can download the "Feux de Forêt" app (French language) on the App Store or Google Play.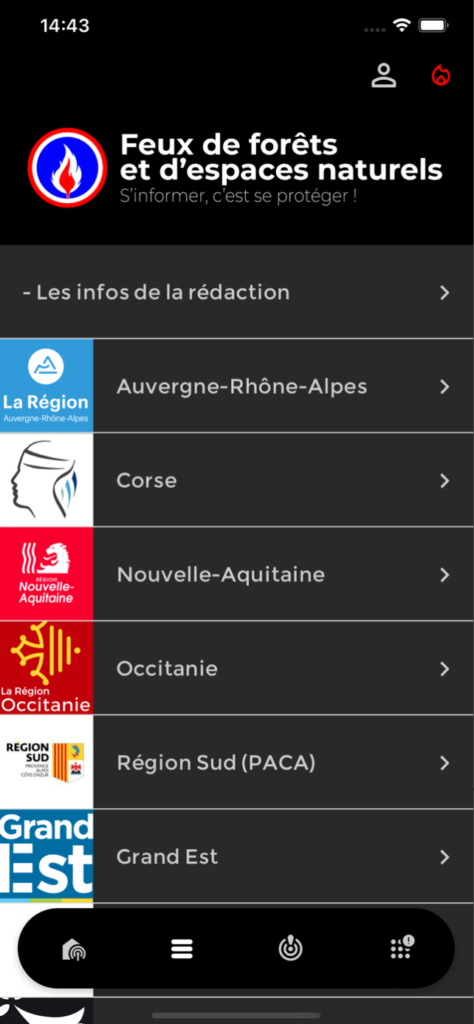 What to do if you see a forest fire
If you witness a forest fire in the region, you can call 18 or 112. Or if you have the Feux de Forêt app you can signal a forest fire with GPS coordinates inside the app or there are DFCI grids that are used by civil security.
Please share this post to your networks, especially yachties in southern France.
Main image credit: AFP
#SecuriteCivile #Canadair #Yachting