Online Yachting Directory for Antibes
Helping you easily find local products, services & suppliers
Antibes Yachting goes beyond conventional business to connect you with opportunities and industry-specific advice.
Rebecca's skills in public relations have made her a well-known entity in yachting and luxury market places. I would not hesitate to put the future of my business in her hands, as I know that she would push it to be as successful as she possibly could. I highly recommend Rebecca and Antibes Yachting.
Rhea Rouw, Company Owner, Yachting International Radio
Rebecca is a natural talent when it comes to writing, she helped me with my website and everything she wrote was spot on. One appointment to discuss quickly the general idea of what I wanted and a few days later, the website was ready with Rebecca's texts. I couldn't have asked for a better/faster/more efficient service. I was totally satisfied and I can only recommend Antibes Yachting !
Rebecca's knowledge of the French Riviera is second to none. Her posts offer a truly exciting style and insights of huge benefit to anyone visiting the south of France. I would not hesitate to recommend Rebecca to anyone looking for a true "guru" on the ground on the Cote d'Azur or to add great content to their blog/website. She researches any subject thoroughly and always surprises me with her fantastic writing.
Alexander Coles, Charter Broker, Bespoke Yacht Charter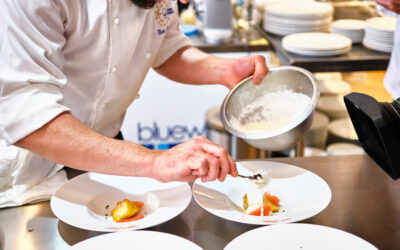 On Thursday 30th March, nine chefs working on superyachts will participate in the Superyacht Chef Competition at Yacht Club de Monaco.  The Chefs are:
Chef Hloni Tlhapuletsa – M/H AHPO, 115m
Chef Gjorgi Mitev – M/Y Coral Ocean, 73m
Chef Finnbar Dewar – M/Y Aura, 37m
Chef Viktoria Fenyo – M/Y Infinity Nine, 35m
Chef Tommaso Santoni – M/Y Paloma, 60m
Chef Peter Barkoczy – M/Y Da Vinci, 50m
Chef Marco Tognon – M/Y Planet Nine, 73m
Chef Henrique Antunes – M/Y Mochafy 22, 45m
Chef Charly Raetsaep – M/Y Ali Baba, 50m
Held under the aegis of YCM's La Belle Classe Academy training centre in partnership with Bluewater, the competition puts the spotlight on gourmet cuisine at sea, another facet of yachting professions.
Chef Nicolas Petit (M/Y Latitude 43m) claimed the winner's accolade in 2022, with Micall Swindells (M/Y GO, 77m) picking up second place and Chef Ivan Holmes (M/Y Kjos 38m) taking home third place.   I interviewed four of the competing Chefs last year who had a great sense of camaraderie even though they all worked on vessels of varying sizes.  It was fantastic speaking to them about their backgrounds, with the Chefs undertaking everything from apprenticeships with Michelin restaurants to baking bread and setting up their own business before gaining yacht chef jobs.
Who is the jury for the 2023 competition?
The jury of experts will be presided over by the three-Michelin star Chef Yannick Alléno, joined by Chef Benoît Nicolas, Chef Cristina Bowerman, Chef Susana Perdiguero and 2022 competition winner, Chef Nicolas Petit, with judging supervised by Chef Joël Garault, President of Goûts et Saveurs.  British Chef Duncan Biggs from Oceanwave Monaco will be in charge of ensuring contestants use all ingredients in their mystery baskets.
What to expect at the Superyacht Chef Competition 2023
Fully supported by their owners and crew who always come along to cheer them on, contestants have to come up with creative dishes from a basket of surprise ingredients from Gourmet Deliveries, U Luvassu poissonnerie, and Metro.  There is a series of three cooking rounds of 40-minutes, with the grand final for the 3 finalists (main course and dessert) taking place in the afternoon.
During the cooking rounds and final, all ingredients must be used or a penalty applies, complying with the contest's anti-waste criteria.  This year, a public vote will be held to add a mystery ingredient to the baskets, and the audience will have the chance to vote for the 'best presentation' too. It is all part of the 'Monaco, Capital of Advanced Yachting' approach, initiated by YCM to position the Principality as a destination synonymous with excellence and sustainability in the sector.
During a lunch break, a food truck will be on-site for refreshments for attendees, while Bluewater and GDT will have an open bar with complimentary bubbles and wine. Titta and her team at Superyacht Foodie will also have a tasting bar. Yacht Chandlers will provide gifts for all the chefs and the jury, and other participating sponsors include Bonemasters Europe, Sabrina Monte-Carlo and Impossible Drinks.
You can watch the live stream of the Superyacht Chef Competition on WebTV channel 'Monaco Capital of Advanced Yachting': https://webtv.monacocapitalyachting.com
Main image credit:  YCM / Youtube trailer:  YCM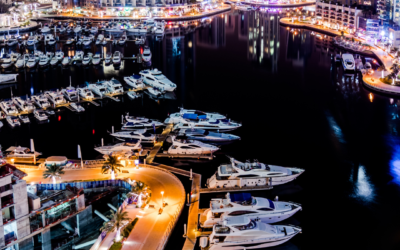 Dubai International Boat Show is getting ready to welcome more than 30,000 visitors to Dubai Harbour, when the region's largest, and most established marine and lifestyle event in the Middle East will get underway from 1-5 March.
With a total value of boats on display of 1.5billion AED, more than 175 yachts and watercraft from globally renowned shipyards such as Azimut, Ferretti, Gulf Craft, Princess, San Lorenzo, Sunreef, and Sunseeker Gulf will sail into the shores of Dubai to put on an incredible display over the five days of the show's 29th edition.
"We are looking forward to welcoming marine enthusiasts, maritime investors and those who are interested in all things ocean to DIBS23," says Riju George, Group Director, Exhibitions, DWTC. "Dubai has a rich maritime heritage and over the years has created an extensive ecosystem and a sophisticated hub to nurture some of the greatest boat designers and manufacturers in the world; that's why every year we see an influx of international visitors to the show."
DIBS Highlights
The MENA region hosts the second-highest fleet-to-billionaire ratio, with the region being home to 12.6% of the world's superyachts. Therefore, it's no surprise that Dubai has become one of the top 10 nautical hubs – home to several world-class waterfront property developments and many exquisite marinas. Such infrastructure has made DIBS the perfect platform for the more than 1,000 global brands to showcase their wares and launch their latest innovations this year.
Alongside over 50 global and regional launches to be announced at the show, DIBS23 will feature a stunning lineup of yachts, with more than 10 new brands on display including Abeking & Rasmussen, Boutique Yachts, Finnmaster, Greenline Yachts, Nordhavn, SAY Carbon Yachts, Sirena Yachts, and Tecnomar. And that's not all – for those that enjoy life on the waves and who are looking for a luxury vessel for their next adventure; due to be unveiled at the 2023 edition of the Dubai International Boat Show, is Gulfcraft's the Majesty 111 – described as 'anything but an average superyacht' and will set a design precedent, offering more than ever before in terms of its design, engineering, architecture, and technical features. 
"At Gulf Craft, we have always been a staunch supporter of our 'home show' since its inception; as an international manufacturer of cutting-edge yachts and boats we are proud to be part of such a prestigious event on our home ground," said Mohammed Alshaali, Gulf Craft Chairman. "At this year's edition of Dubai International Boat Show, we are thrilled to introduce our brand-new Majesty 111 superyacht – a vessel that will redefine industry standards and set the precedent for our future Majesty models. We are committed to continuing our contribution to the region's yachting industry and look forward to further supporting the UAE's reputation as an exceptional global yachting destination."
Ocean lovers can also explore the ocean with Sunseeker Gulf at its debut as the new regional distributor of Sunseeker Yachts across the GCC; known for exceptional yacht designs and innovative technology, Sunseeker Gulf is poised to impress everyone with its latest offerings. 
Explore the latest technology and design within the Equipment, Supplies, and Services area, where there is plenty to discover; Elcome will introduce Starlink, the revolutionary high-speed service from Space X that has grown attention in the maritime sector.  On the water make sure to stop by Silent-Yachts, the premier ocean-going production yachts in the world which are powered solely by clean energy, with solar panels and batteries feeding electric motors, which will be showcasing a partnership with EV Labs and demonstrating sustainable energy at sea to recharge boats entirely through the sun's rays.  
The Middle East Yachting Conference (MEYC), a one-day event hosted on 28 February, aims to highlight diverse perspectives from across the global landscape. Expect to discuss some of the key trends around technology, geo-politics, investments and debate the industry's strategy and policies of the future in a challenging yet optimistic market; DIBS looks forward to welcoming a diverse panel of speakers from across the seas. Make sure you don't miss Thomas Weigend, Managing Director of Meyer Werft who are building Njord, a 948-foot luxury vessel, described as "the world's largest private residence yacht" with 117 private apartments, who will talk about the ambition of scale and elegance – a fitting tribute to the city of Dubai. A full speaker list and agenda can be found here. 
Premiering in Dubai, and hosted at DIBS, is the world's second edition of the Experiential Yachting Forum from 2 to 3 March, bringing fresh insight into the yachting world and exploring alternative uses of superyachts. Investors, industry leads, and marine enthusiasts will gather to tackle pressing concerns like the alternative use of superyachts and yachting to make a positive impact on the communities at sea and on land. Other topics will focus on the future of yachts beyond relaxation and exploration, including the possibility of medical tourism at sea. See the agenda and speaker list here. 
In the year of sustainability and in the approach to COP28, DIBS pushes forward with its sustainability promise and 2023 will see the launch of the DIBS S.E.A. (Sustainable Environmental Action) Mission to support Dubai's marine life. The show features a programme of initiatives to promote the sustainability of our oceans – combining community, creativity, and a love for the marine world. Event partners include Dubai Can, Dubai Harbour, trust your Water, GEMS Schools, Ethical Yacht Wear, and the Arabian Ocean Rowing Team, who in January completed the record-breaking Atlantic Row Mission, raising awareness about ocean pollution – look out for the S.E.A logo around the show for more sustainable initiatives and exhibitors.  
The Dubai International Boat Show is about bringing the community together, because everyone's world is around the ocean, so even those who like to keep their feet dry should visit to experience it.
The Leisure Marine Authority, which aims to increase recreational boat ownership in the region, will be at DIBS to give a series of informal coffee talks on budget boat owning, safe and sustainable use of watercraft, and more. Check out the Dive Pool Shows, test your balance in the kayak and stand-up paddle area, join the fishing competition, take in the adrenaline-filled watersport demos, sip a sundowner in Nikki Beach, or indulge in tasty treats at Buddha Bar.
DETAILS:
Dubai International Boat Show 2023
Wednesday 1st March to Sunday 5th March, Dubai Harbour
Show Opening Times:
Wed 1     3 – 8pm
Thurs 2   3 – 8pm
Fri 3        3 – 9pm
Sat 4       3 – 9pm
Sun 5      3 – 8pm
Get your DIBS tickets here: Dubai International Boat Show 2023 tickets
See the Dubai International Boat Show Exhibitor List here:  DIBS 2023 Exhibitor List
About Dubai International Boat Show 
Dubai International Boat Show, the most trusted and established marine industry exhibition in the Middle East, is a showcase of yachts and boats from both local and international builders, together with the latest innovations in marine equipment and accessories.
The multi-award-winning show showcases the latest leisure boats, equipment, and associated services in the Middle East. Exhibitors include both local and international boat manufacturers, as well as the latest innovations in marine equipment and supplies.
About Dubai World Trade Centre (DWTC)  
DWTC counts 40 years' of experience delivering world-class events in the Middle East and provides local, regional, and international exhibitors with unmatched expertise and in-depth market knowledge. The team organises more than 20 of the largest and most successful international and regional shows in the Middle East, providing an ideal platform for business development in the region.
Their commitment to ongoing innovation within the exhibition industry has supported the rapid growth and development of a wide range of business-to-business and business-to-consumer shows and delivered consistent satisfaction to exhibitors and visitors. DWTC works with leading trade bodies and industry associations to ensure all exhibitions deliver full value and are built upon the real needs of their specific sector.
Rebecca Whitlocke from Antibes Yachting is an accredited press journalist for DIBS 2023, representing a number of media and publishers including Luxury News Online and Relentless Magazine, published by JWP Media Group.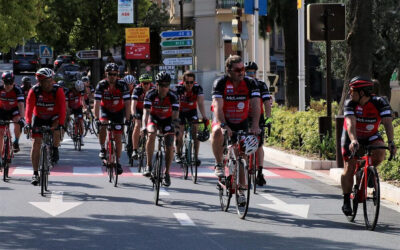 The Champagne and Oysters Cycle Club's fundraising St Tropez to Monaco bike ride is scheduled to take place on Sunday, April 23, offering an opportunity for professional and amateur cyclists to pedal for a good cause.
Due to Covid, it's been four years since the last charity bike ride! This year's 140-km route departs from St Tropez at 8 a.m. with cyclists estimated to arrive in Monaco at 5 p.m. The event then wraps up with a fun-filled street party, including food and live music, offering the perfect opportunity to celebrate the end of the ride.
Pedal for a cause
The annual bike ride, now in its 9th year, will donate the funds raised to the Princess Charlene of Monaco Foundation, an organisation which works to improve water safety for everyone through a range of programmes, including teaching children to swim.
There are an estimated 372,000 drowning deaths each year across the world, with drowning being the leading cause of unintentional injury/death worldwide. Individuals with increased access to water have a higher risk of drowning.
Established in 2012 by Princess Charlene, a former Olympic swimmer, the Foundation has helped more than 1,000,000 people through over 510 projects spanning more than 43 countries.
"Anyone who sees what the Princess Charlene of Monaco Foundation does should be willing to support." says Damian Crean, one of the event organisers and co-founder
Register or Sponsor the Event
If you are interested in taking part in this year's ride, application forms are available on the website www.coccmonaco.com/apply The other option is to send an email to [email protected], and the team will get back to you.
For businesses wishing to sponsor the COCC Bike Ride there are a variety of options. Riders are always welcome to donate as well, of course, with participants required to raise a minimum of 1,000€ in sponsorship. This also covers the riders' professional kit, mechanical backup, insurance, brunch at the halfway point, water and energy supplies, as well as a contribution to the charity and one ticket for the after-party.
Don't miss out! The deadline for the applications is Wednesday, March 1st!
About COCC
The COCC started in 2011 when seven friends decided to ride from Monaco to St Tropez in aid of charity. By the following year, His Serene Highness Albert II, Sovereign Prince of Monaco, had joined the training rides and the starting and the finishing lines had been reversed.