Cannes Yachting Festival 2021 is much anticipated for a return to the Côte d'Azur from 7 to 12 September after 2020's show was cancelled due to the pandemic. Around 470 exhibitors are confirmed, with 560 vessels spread across Vieux Port and Port Canto; 150 of these will be making their debut.
The return of the yacht show to Cannes was shadowed by five years of legal proceedings initiated by the French Boating Industry Federation (FIN) in 2016, which challenged a contractual agreement between the FIN and RX France (previously Reed Expositions France) for management rights to the Cannes Yachting Festival.  In July 2021, the Paris Court of Appeal ruled that RX France continue to manage the Cannes Yachting Festival until 2041.
Vieux Port
Vieux Port will host 450 motor boats ranging from 5 to 45 metres in length, featuring many new products. The show will be further updated with:
The development of the area reserved for motorised multihulls with up to 15 units ranging from 12 to 29 metres in length,
The development of the on-land area reserved for outboard and inboard engines to provide even more visibility and ease of exhibition for engine manufacturers of small and medium size units.

The continuation of the Luxury Gallery, an area inside the Palais des Festivals, built around luxury and lifestyle brands.
Port Canto
Port Pierre Canto has 108 new boats exhibiting ranging from 10 to 35 metres in length, both monohull and multihull, with 20 global launches.
The sailing boats will be shown next to the Yacht Brokerage & Charter and Toys sectors, with 50 or so second-hand boats 22 metres-plus.
A new Innovation Space will be based at Port Canto to showcase maritime start ups.
NOTE:  Free ferries will shuttle visitors between Vieux Port and Port Canto running approximately every 15 minutes.
What's New at Cannes Yachting Festival 2021
An area reserved for 100% electric and hybrid boats at Vieux Port with the presence of the following shipyards: Boote Marian, Pinball Boats, Sarvo Marine, Say, Vita Yachts and X-Shore, presenting ten boats from 8 to 12 metres.

The Innovation Space created in partnership with Mer Angels & BNP Paribas Banque Privée will showcase start ups at Port Canto who offer breakthrough technologies or high added-value services. These start-ups are creating the future of yachting: yachting that is more powerful, more responsible and more environmentally friendly.

A new area reserved for sea trials located on the other side of the Jetée at Vieux Port, away from the show zones to reduce visitor traffic within the port area. It offers fast and direct access to the open sea for exhibitors and their visitors.
100% digital registration. Everyone wishing to enter the Yachting Festival show zones must pre-register and present their electronic access pass with QR code, either printed out or on the screen of their smartphone. There will be no ticket office at the show entrances, tickets will be available online only.
A Food Truck village will offer a range of food and beverages.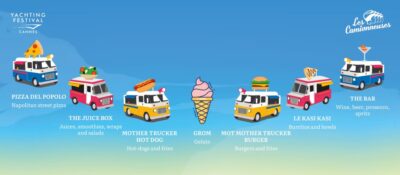 Cannes Yachting Festival Partners
This year, the Yachting Festival is pleased to welcome prestigious partners: Bentley's exclusive cars, the manufacturer of high-end design furniture Roche-Bobois and the beautiful floating penthouse TheFloatingPenthouse GmbH.
Mer Angels and BNP Paribas will support the creation of the Innovation Space, dedicated to "smart" start ups in the nautical sector.
The Maison Dalloyau and the champagne Maison Louis Roederer will accompany us again in the VIP areas of the show and during the receptions given on the occasion of the events of the show.
Marinepool, Pixelight, Wajer Yachts, Azur Hélicoptère, Suzuki and Yamaha are also partners and bring a high level of expertise and high added value services.
Covid & Health Regulations
The 2021 Cannes Yachting Festival is designed in full compliance with the health standards currently in force and RX France are also actively involved in work being led by UNIMEV, the French trade association for event professionals, to develop protection measures for trade shows.
Work is in progress on health procedures and monitoring and counting tools which will allow the show organisers to adapt access to the show depending on the regulatory framework set by the French government.
Presentation of a health pass and I.D. for visitors aged 12 years and upwards, or negative test with I.D. is mandatory for visitors taking part in the event, while waiting for the adoption of the law.  Detailed information will be issued as health regulations are confirmed to help exhibitors and visitors prepare prior to the show.
For the up-to-date health charter for the show, go here: https://www.reedexpo.fr/en/charte-sanitaire-reed-expositions-france/
Cannes Yachting Festival 2021 Practical Information
Location: Vieux Port and Port Canto, Cannes
Dates: From Tuesday 7 to Sunday 12 September 2021
Opening Hours:  Open daily from 10am to 7pm.  Late night opening on Friday 10 September until 10pm. Closing at 6pm on Sunday.
Tickets:
General Admission: Entry is 18€ per person general admission for one day.
Professional badges : €20 for 4 days entry from Tuesday 7 to Friday 10 September.
VIP prices : Start from €231 for one day for 2 persons.
Free entrance for children up to 10 years old.
Concours d'Elegance visitor tickets and Azur Hélicoptère panoramic flights are available at set pricing on the website.
Press Passes : Press accreditation must be submitted by September 12; go to 'Ticket Office' on the website and click on the 'Media' section to submit press accreditation.
Note: For the 2021 show, access is forbidden to all suitcases, all travel bags and larger backpacks in A3 size (approximately 40x30cm)
Cannes Yachting Festival Exhibitors Lists: https://www.cannesyachtingfestival.com/en-gb/exhibitors/exhibitors-list.html  and https://www.cannesyachtingfestival.com/en-gb/boats-products-services.html?refinementList%5B0%5D%5B0%5D=filters.Type.lvl0%3Aid-565141&refinementList%5B0%5D%5B1%5D=filters.Type.lvl0%3Aid-565142
Cannes Yachting Festival Participating Yachts: https://www.cannesyachtingfestival.com/en-gb/boats-products-services.html?refinementList%5B0%5D%5B0%5D=filters.Type.lvl0%3Aid-565140
Visit the show website: https://www.cannesyachtingfestival.com
Antibes Yachting will be present at Cannes Yachting Festival on behalf of a number of global yachting media to interview exhibitors and boating companies.  If you are seeking PR or media coverage we have limited spots, please contact us for rates via email: [email protected]