By Jules Rabai
Solaris, built by Lloyd Werft, and delivered in June this year is the most expensive custom superyacht to date.
An explorer class, capable of voyaging to locations beyond any other. If I could spend one day on any yacht in the world, it would be Solaris.
The term state-of-the-art is an understatement when it comes to this vessel. I could argue any day that this superyacht is one of the best yachts in the world.
As a 14-year-old boy I feel truly fortunate seeing the world's most beautiful yachts everyday. Every morning on the way to school, I view all the wonderful yachts harboured in the local port. Considering all that I have observed, I still haven't seen anything as grand as Solaris!
Yet, every time I wonder, how much effort was put into these assets?
Each ship is the product of 3 people: The owner, who places the order, he defines the concept; The designer, who puts in the technical expertise; finally the builders, who bring it to reality.
The Russian billionaire, Mr. Roman Abramovich, the owner of this boat, has already been in possession of a number of superyachts (Sussurro, Ecstasea, Le Grand Bleu, Luna, Pelorus, Eclipse) before ordering Solaris. So, if there is someone having a concise idea on what is needed for a superyacht it is by all means Mr. Abramovich. Currently though, he owns 162.5-metre Eclipse, another one of the biggest superyachts in the world. So it may be asked, what made him choose to order another?
Perhaps he wanted an environment that allows him to make outstanding business decisions. Maybe he wanted to own a vessel where he could invite extraordinary people and to show them places more exotic than the usual cruising regions of the Caribbean and French Riviera.
Though, in my opinion, the aim of this vessel is truly about the owner and his family. It offers unprecedented privacy, safety, and the ability to travel anywhere, all while being a great place to live. It's a luxury villa on the sea! Mr. Abramovich has donated more money to build schools, hospitals and infrastructure than any other living Russian. Now it's time for himself and his family.
If one creates a vessel as outstanding as Solaris (for one's own family), then privacy and security are considerations.  This may be the reason for Solaris being a moving fortress. It has armoured plating, a hand-picked crew of 60, biometric fingerprint scanners, panic room and supposedly a radar missile detection system.  Roman Abramovich nevertheless is a master and a well-known pioneer for anti-paparazzi systems to help keep his privacy to the fullest extent private. So naturally against paps, he needed to use an ultra-high-tech laser shielding system. My utmost favorite of any of his systems so far. It can best be explained as a very high budget version of shining a torch in someone's face. Only here, the torch is a high intensity infra-red laser (only harmful to cameras) and someone's face is the photosensitive parts of the paparazzi's cameras. This system can detect any photo before it can be taken and blind the paps' cameras using its lasers.
Today, instead of long ranged lenses you have drones too – so once one enters in a range of 20 kilometres it is registered as a potential threat: Spy observed.  Then if one is as reckless as to go within 500-metres of the craft it has its video signal blocked: Spy disabled.  Afterwards if the drone still decides to hang around, it will be forced out of the sky: Spy eliminated. Along with strict 'privacy contracts' being signed by each of the crew, we may be very certain that not a word is getting off that ship.
Unparalleled privacy is just one of the many features which required Mr. Frank Neubelt's ingenuity to implement for Solaris. Frank Neubelt is a familiar name to most in the yachting industry being a well-respected designer. All his experience gathered over his 25 year career certainly shows with exceptional results. Even the name 'Solaris', already implies his phenomenal work, being Latin for 'pertaining to the sun' which his what his design truly adheres to.
Accordingly, the vessel has a mirror like light grey hull which glistens brightly in the sun. Furthermore, a crisp white superstructure provides a complement alleviating the hull by being brighter as if stating to the viewer that the inside is even better and to have a look inside. The superstructure is even, encapsulated by the hull arching over at the peak making the ship very unique. This element may also serve the purpose of protection reinforcing that the inside is something precious to keep safe.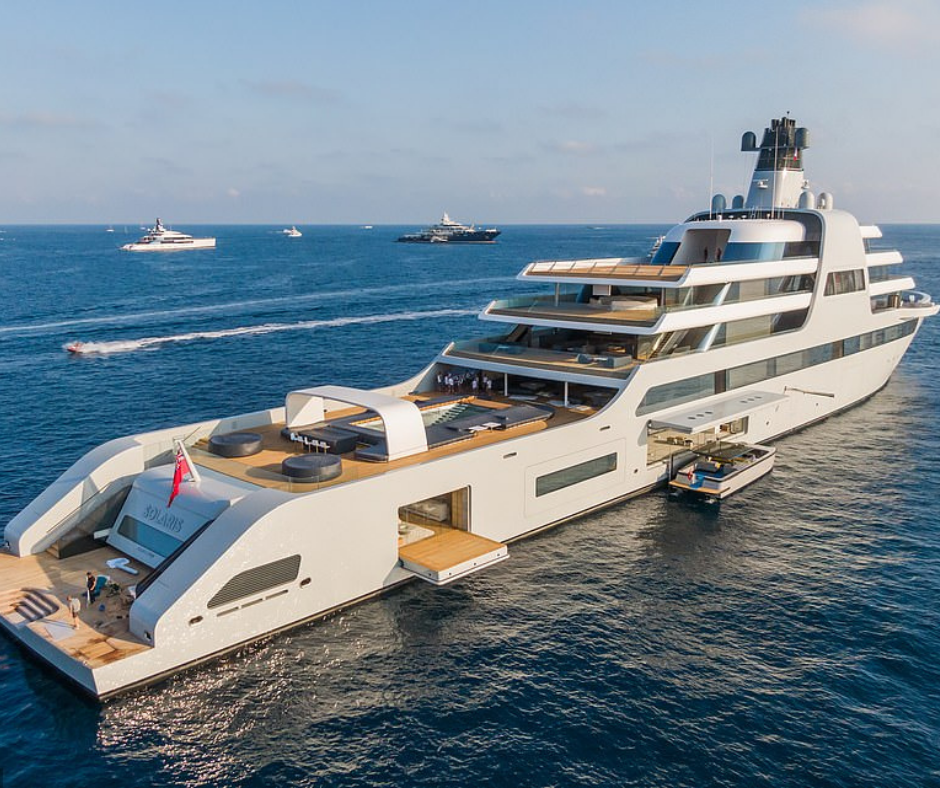 The spectacle continues on into the night. Once the night lights are activated a magnificent view ameliorates the sea darkness. This is done by the well-placed lights shining at exactly sea level. Their glares rebound from the water onto the hull lighting it up and complementing the orange illumination of the upper decks to perfection. Orange by being close to gold also may suggest that we should see this artistry from the inside… So, what is on the inside?
The yacht's interior is a well kept secret. Though, in a 11,011 ton mastery I would be certain that in the full length of 140-metre one of the  decks must certainly hide at least one indoor swimming pool.  Speaking about water it is just the standard for these size yachts to help you relax in many ways. For example, giving you an ability to enjoy the welcoming warmth of a jacuzzi, the aft swimming pool or the calming environment of a sauna. It is also expected to have a full gym.
Neubelt made sure the owner could invite plenty of friends – 36 guests, excluding the crew of 60 – by including 48 cabins onboard. Though, this is barely scratching the surface when you want to experience the full luxury of this yacht, such as a cinema screen integrated into the helipad.
If you need luxury, what better place to start than having a beach club at the back of your yacht. Though as far as I can tell Solaris was definitely installed with many ways to draw inspiration through sight.  Through equipping the ship with an almost endless suppository of balconies. All the upper deck's edges taunt you to look down and feel overwhelmed by the magnitude of beauty below you – or just the fact that you are 8 decks high. These are both towards the bow and the stern. However you may still wish to have a full view of both what's ahead and behind. This was made possible through 2 balconies jutting out of the hull either side. Finally you have multiple deployable ones located at the stern. Mentioning the term deployable, what else may you be able to deploy?
I am aiming at the flotilla of 20 high speed jet skis. These are the ultimate way to enjoy the surface of the sea energetically and rhythmically join in with the waves. I mean rhythmically literally. I mean with music! Thanks to the genius of Neubelt, very high powered speakers are installed which can blast music at volumes which can even be heard through the noise of the jet ski. No more lost air pods that's for sure.
This is how to enjoy the surface of the sea. Though you also have the ability to also be inspired by underneath the sea just as much as above. Trends and innovations are the new staple of the superyachting world after all.  Gaining more popularity are mini-subs, such as 'Project Neptune'.  This mini submarine is one of the most iconic in the world and provides you with a full 180 degree window at the front and having space for 2 passengers.  It's unknown if Solaris has a personal sub, but it's highly likely.
When it comes to passenger and crew transportation you cannot ignore the two docking ports on either side of Solaris for limousine tenders, as well as the helicopter.
Once the design was finished it was the task of German shipbuilder Lloyd Werft to bring Solaris to reality.  This shows in their choice of technology and materials. Solaris has a hull of steel making it very robust yet still not overweighed by the aluminium superstructure. All assisted by 2 AziPods – electric propulsion capable of turning 360 degrees.
In conclusion I would say that Solaris is a marvel. A floating luxury villa which is stylish and robust.
All photos credited to Julien Hubert and YouTube video by Omglol taken on the Côte d'Azur.