Blue Marine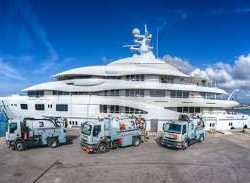 256 chemin de Vaumarre
Mougins, Côte d'Azur 06250
Since 1991, Blue Marine has specialised in naval sanitation providing full service fuel or fresh water tank, bilge and engine room cleaning, waste oil pumping, fuel centrifugation and tank painting.
Servicing the French and Italian Riviera, Blue Marine is governed by strict obligations to meet the following criteria :
The use of vehicles fitted with specialised equipment which comply with ADR regulations, these vehicules are specifically designed to pump, store and to transport oil.
Their employees are highly qualifed technicians, who have received training to APTH standards, which is approved by the Ministry of Transport and are verified by an examination for drivers of vehicles carrying dangerous products.
Their guarantees are in compliance with the current legislation ( Articles R 541-8 et R 541-12 Environnemtal codes ), and they confirm that recycled wastes are treated in accordance with law of waste collection (they work with several authorised waste depots).
Finally their insurance policies cover all risks which are related to their activity, and the use of specialised vehicles, which is a sure guarantee for all clients and third parties.