Hotel du Cap-Eden-Roc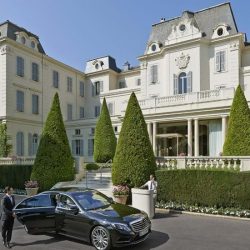 165-167 boulevard J. F Kennedy
Cap d'Antibes, Côte d'Azur 06160
Hotel du Cap-Eden-Roc has hosted those in search of the Riviera's rare and delicious pleasures every season since 1870. Join them for carefree days secluded between their private bay and parkland, enjoying the elegant country club facilities.
The pool blasted out of the rocks and refreshed with natural sea water is an icon of the Riviera, as are the secluded cabanas, and tennis courts by swaying Alep pines.
Services:
• Accessibility for persons with reduced mobility.
• 33 cabanas including 2 dedicated to spa treatments and yoga classes. Lunch and cocktail menu.
• Spa, fitness and beauty salon.
• Heated infinity pool
• Eden-Roc Restaurant :  April 16 to October 17, 2021
• Louroc Restaurant : April 16 to October 17, 2021.
• Eden-Roc Grill : April 16 to October 17, 2021.
• Private limousines for airport or station transfers with chauffeurs who are fluent in both French and English. Mercedes Class E and Class S.
• Private Pontoon : Max depth 4 metres; Contact Channel: 17 for any shuttle request; Pontoon GPS coordinates Latitude: 43*32,8N Longitude: 007°07,1E